The Super Station is a popular Location in Sodor. It's a tall station where engines hang out.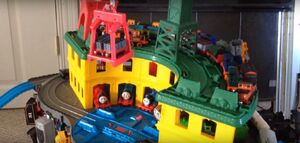 Visual Appearance
Edit
The Super Station is a tall station, with 2 ramps. at the top, there's a big shed with a turntable. The tracks are super-compatible, which Trackmasters, Minis, Adventures, Wooden Railway, Wood, etc... The base of the station area is a semi-circle, which the track goes 180° around the semi circle, with 2 switching points to turn in to the turntable. Connie is also part of the station, as he holds a carrier that picks up engines, rolling stock, etc... Detrick is also character who works there. Thomas usually hangs out there, with his other friends. There's also a ground track, which is also super-compatible.
How it came to be
Edit
In Island Tales Episode 11: The Super Station, Sir Topham Hatt assigns Thomas, Annie and Clarabel to go up to a new addition to The Railway Exhibition. As Thomas was going, he gets switched on to another track so Leoneard pass by, not seeing the tall structure before he passes. Thomas was shocked as he saw the super station. Thomas explores the Super Station, seeing some of his friends in the process.
Appearances
Edit
Thomas meets the Experimental Engines (track)
I Want to go Home (track)
Who's Thomas? (track)
We Can't do Anything (track)
Thomas on the Mainline and James on Thomas' Branch Line (official appearance)
Super Station Boredom
Fergus' Online Store Finds 4
Journey Beyond Sodor in a Nutshell
Super Stations Adventures Teaser
Thomas News 2
If Somethings were Thomasified Trailer
Big World Big Adventures in a Nutshell
If Dave and the Giant Pickle was Thomasified (ramp)
You Just Gotta Love Cats (track)
I was Bored 10
Island Tales Episode 9: Toby's Retirement (track)
If Kikansha Yaemon 3D was Thomasified (ramp)
Pride Remake
Somebody Has to be the Favorite
Five New Engines in the Nutshell
Strength Remake
Favorite Place Remake
Island Tales Episode 10: Tourist Train Troubles (dream)
Island Tales Episode 10-Outtakes and More
Thomas Percy and the Dragon Remake (ramp)
Island Tales Episode 11: The Super Station (the title already tells it.)
Super Station Adventures Episode 10/I was Bored 11
Who's Thomas? (Remastered) (track)
Hiro of the Rails Clip Remake: The Race (track)
10 Things You Should Know About Island Tales (6,000 Subscriber Special) (mentioned)
Island Tales Episode 12: The Superior Arthur
I was Bored 13
Blue Mountain Mystery-Opening Scene Remake
Navigation Remake (New Layout Tour)
(Draft) Island Tales Season 2 Theme Song
Island Tales Episode 13: He's at it Again (Season Finale) (track)
New Engine 4 (ramp)
I was Bored 14
In Total, the Super Station Appeared 52 Times. 36 for Full Appearance, 13 for Track/Ramps, and 2 for being Mentioned.